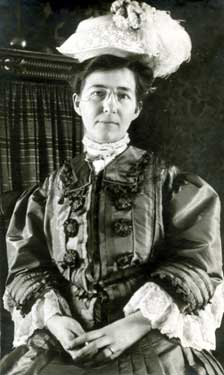 Provocative Intriguing Accomplished
These three words aptly describe the artistic works of Dulah Marie Evans (Krehbiel), a modernistic painter in the first half of the twentieth century. Dulah was born in Iowa in 1875 and drawn to Chicago where she studied at the Art Institute of Chicago. Later at the New York School of Art she was mentored by William Merritt Chase. Dulah's work was widely exhibited and is now included in such places as the National Museum of Women in the Arts in Washington D. C.
Dulah's enchanting works range from classic, impressionistic, to modernistic. Dulah brought many intriguing elements to her paintings; some of which have spiritual overtones.
Dulah had an extremely accomplished career as a painter, printmaker, entrepreneur, and commercial artist! Here is a brief history courtesy of the late Jane Meyer. Another excellent historical link of Dulah is at the Women in Art website.

Dulah Marie Evans circa 1908
Site last updated July-01-2020